Man arrested for DUI on Deerfield High School lot
Hang on for a minute...we're trying to find some more stories you might like.
Around 3:25 PM, during after school pickup on Thursday, October 24, a man was arrested on Deerfield High School property. According to the Deerfield Police Department, the man was charged with driving under the influence, reckless driving, open transportation of alcohol, and operating an uninsured motor vehicle. The driver, in a grey car, was in the school pickup line.
"He simply made a wrong turn and got stuck in the traffic line, which we all know can be long," said DHS Security Manager, George Grubb.
Several students witnessed the incident, including the Boys Cross Country team.
"[The team was] standing on that patch of grass on the front circle before cross country practice and the buses were pulling out of the front circle to take the kids home after school … [the driver] was in the back parking lot and he was trying to come back to the front," said Matt Butler, senior Cross Country runner.
The security team out for student pickups, including Grubb, saw the driver making illegal maneuvers. They moved to stop the erratic driver as he became a danger to students.
"There are signs posted for no U-turns over there and he made a U-turn going against the sign. He drove past my security team member when he tried to stop him, he went around a school bus without yielding to it, and then I was able to have him slow down and stop on High School Drive so he couldn't go any further. We contacted [School Resource Officer] Rheanna Hall, she came over, and then she placed him in custody," Grubb said.
Officer Hall took the man to her police vehicle and the man's car was towed off of school grounds, according to Butler. Later that Thursday, an email was sent to all Deerfield students, parents, and staff detailing the incident.
"The safety of our students and staff is our top priority.  We are proud to have an experienced and trained security team that is prepared to respond to any situation," Principal Kathryn Anderson wrote to students.
The security team, including Security Manager Grubb, has four former police officers, two of whom have leadership experience as a sergeant and deputy chief. The four former officers have a combined average of 26 years of police experience. Grubb claims that experience is part of why the security team was able to shut down the incident so quickly.
"Being able to have a situation like this, with myself and the other security team member [being a] former police officer … it was good for us to be able to handle the situation because we were prepared," Grubb said.
The driver was not a student or parent of a DHS student. Deerfield High School does not see incidents like this very often, according to both staff and students. It came as a shock to Butler and other witnesses.
"I can't believe we just saw it happen," Butler said. "We had no idea who this guy was, he clearly did not have a kid at the school, and he didn't work at the school, so we were like, 'Why is this guy here?'"
Grubb concurred that occurrences like Thursday's arrest are uncommon.
"It's rare. It's very rare. The people are very good. Again, this was a person that made a wrong turn. That was the only reason he was here … and while he was here he made some bad choices," Grubb said.
Grubb hopes that the incident will help put the work that the security officers do in perspective. Hundreds of cars enter and leave the lot during dropoff and pickup times; a lot for the security team to manage.
"I just want people to understand that … we deal with a large volume of vehicles. In the morning, between coming off the property and leaving the property, over 1000 cars in a 45 to 50 minute time period, and in the afternoon we have about 300 to 400 cars, plus students walking, people visiting, people dropping off. It's hectic. So please, just understand that we're out there for a reason … Our number one goal, absolutely, is to ensure the safety of the students, staff, visitors, and parents that are on our property," Grubb said.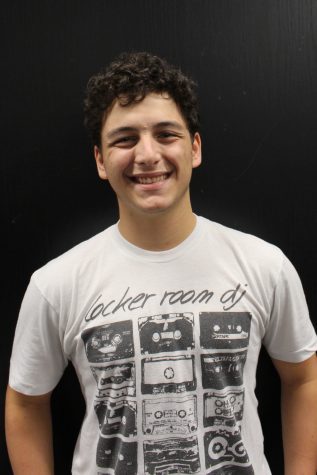 Andrew Toban, Staff Editor
Andrew Toban is a Junior in his second year writing for Deerprints, his first as a Staff Editor. Andrew's work can often be found in the Feature and News...