Point-blank miss: Why aren't Chicago-based universities always contenders in March?
Before every game for the Loyola Ramblers men's basketball team, Sister Jean leads the players in prayers. She also provides the guys with scouting reports. And on top of having a sweet 98-year-old (who knows more about your tourney favorite than you do) catching the eye of the cameras, the team is actually relevant. A Chicago collegiate men's basketball team is having success in March. With this surprising success comes a question: why is it a surprise at all? Why haven't Chicago-based universities experienced almost any (legitimate) postseason success in almost 40 years?
DePaul almost had the first Chicago powerhouse collegiate team for the 2011-12 season. The plan was for four of the top 10 recruits from Chicago—Anthony Davis, Wayne Blackshear, Tracy Abrams, and Mike Shaw—to commit to DePaul and lay waste to the Big East. It didn't happen. The last five-star recruit to attend a Chicago, or any Illinois university was, well, never. In the 11 years since ESPN started ranking the top 100 college basketball recruits, there have been zero five-stars from the Chicagoland area to attend an Illinois school, despite the fact that there have been 12 top-25 Chicago recruits in that time. The curse left by the 1980s DePaul teams that had two Final Fours vacated in 1986 and '87 still haunts the state.
The last time a Chicago-based university won a championship was Loyola in 1963, and DePaul made the last Final Four by a Windy City college in 1979. Having success on college basketball's biggest stage (and arguably the biggest stage in the entire sport) has been rare air for local teams. It makes no sense. Over the past 39 years (since DePaul made the Final Four) there have been more NBA basketball players from Illinois than all but two other states: New York and California. The talent in Chicago alone should be easy pickings. But the likes of DePaul and Loyola tend to get the low-hanging fruit of the Chicago basketball vineyard.
Why would a top recruit go to the likes of DePaul, Loyola-Chicago, Northwestern, or any rendition of the University of Illinois? With the likes of Kentucky, Duke, Kansas, and every other college basketball blue-blood requesting your service—all schools that produce future NBA all-stars—why go to scrappy little Loyola, 0-18-in-the-Big-East-in-2009 DePaul, one-March-Madness-since-World-War-II Northwestern, or U of I, whose campus has been described to me by alumni as "constantly smelling of cow manure." Would a player, who's likely to make millions in the NBA, rather go to a school where he'll consistently get national attention and lock up a chance to go to the lottery, or would he rather go to a school that offers a 98-year-old captain (who had the team going no further than the Sweet 16) and rarely sends players to the NBA? No school in Illinois produces enough consistent buzz or has a sufficient enough quality of play to boost a prospects draft stock enough to make it a desirable landing spot.
Then there's the reason that no one wants to talk about, but is without question an integral art among college basketball's biggest and baddest: bag-dropping. The shady dark alley meetings where a young recruit—by chance, mind you—finds a bag, filled with thousands of dollars, dropped with no sight of an owner. It happens. Any quasi-enlightened college basketball fan knows this. The recent FBI investigation into some of college basketball's biggest programs allegedly paying their players swept over the sport. And when the list came out, I was infuriated. Not because my favorite team, Duke, was on the list (who I have no question are expert bag-droppers) but because there were no Illinois schools on the list. We aren't even trying to compete with the big dogs. Hell, even Utah is being investigated for dropping various bags. Utah! I know I shouldn't hope for any school to cheat, but in the words of the great Lonzo Ball, "Everybody's getting paid anyway. You might as well make it legal." DePaul, Loyola, Illinois, (and Northwestern if they embrace the Big Ten culture of generally having competent athletic departments), stop whatever you're doing and drop a bag this instant.
Things may be on the rise though, especially for DePaul and Northwestern. Both schools are in the process of constructing new stadiums and facilities for their basketball teams. They're showing millions of dollars worth of commitment to improving their respective programs. On top of that, Illinois just locked up the top rated Chicago prospect, Ayo Dosunmu, ranked 33 on the ESPN 100. Mix in these upward trends off the court, with Loyola-Chicago's on court success in the Big Dance, and all of a sudden things are looking up for Illinois collegiate basketball programs. While this tournament provided an Illinois school rare tournament success—as well as exposing the general public to the national treasure that is Sister Jean—the Chicago collegiate basketball project is still very much in the works.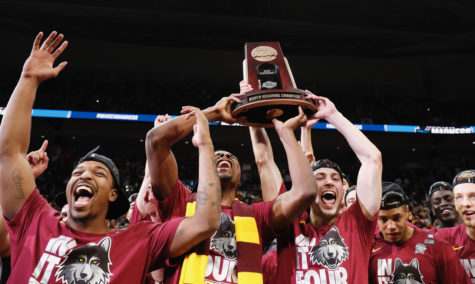 About the Writer
Uri Uziel, Staff Reporter
Uri is 16 and in his junior year, which is also his first year of Deerprints. Impressively, he's bilingual and can speak Hebrew on top of English. He...