4 Year Playlist
2013-2014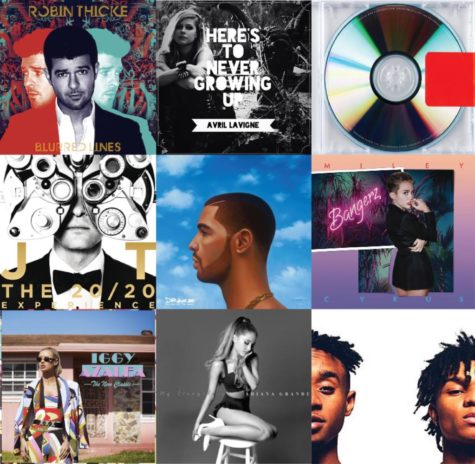 "Blurred Lines" – Robin Thicke
"Never Growing Up" – Avril Lavigne
"Bound 2" – Kanye West
"Suit and Tie" – Justin Timberlake
"Wrecking Ball" – Miley Cyrus
"Hold on, We're Going Home" – Drake
"Royals" – Lorde
"Fancy" – Iggy Azalea
"Bang Bang" – Ariana Grande, Jessie J, Nicki Minaj
"No Type" – Rae Sremmurd
Freshman year, a big year of new artists and comebacks for pop culture. Justin Timberlake made his long awaited return to the stage with his unforgettable song "Suit and Tie" that may have been overplayed, but is still a definite classic. I mean, who didn't love trying to rap along with Jay Z? The song "Blurred Lines" was so much more than a song- it was the song that led to Miley Cyrus' provocative performance at the MTV awards alongside Robin Thicke that left all of us freshman shocked, yet undeniably intrigued. We came to terms with the fact Hannah Montana was dead. This VMA performance was when it all started for Miley, leading to her unforgettable "Wrecking Ball" video, where she wore the super trendy Doc Martens. Remember when they were THE must have item? The debut of the song "Bound 2" was the solidification of Kimye (Kanye West and Kim Kardashian), a relationship very few thought would last, however here we are, four years later, and the couple is still going strong, especially compared to her previous 90 day marriage to Kris Humphries! We learned how to attempt to be edgy from Lorde when she came out with her trend-setting track, "Royals". 2014 also introduced a dynamic trio of Nicki Minaj, Ariana Grande, and Jessie J with the song "Bang Bang," which actually wasn't too bad. It's safe to say that if it came up on my Spotify today, I wouldn't waste a skip on it. This year was also when the world was dominated by Iggy Azalea's short lived reign of fame. Did anyone actually know all the words to the song "Fancy"? Whether you did or not, that didn't stop us high schoolers from screaming "I'm so fancy!" with as much attitude as possible when riding in the car with the windows down, our parents still driving us of course.
---
2014-2015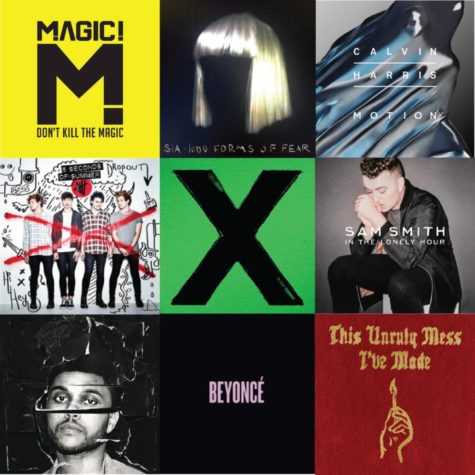 "Rude" – MAGIC!
"Chandelier" – Sia
"Summer" – Calvin Harris
"Drunk in Love" – Beyonce
"She Looks So Perfect" – 5 Seconds of Summer
"Thinking Out Loud" – Ed Sheeran
"Stay With Me" – Sam Smith
"The Hills" – The Weeknd
"Blessings" – Big Sean
"Downtown" – Macklemore
This was the year that whenever our parents said "no" to us, or  one of our teachers gave us a bad grade, we would of course respond by singing "Why you gotta be so rude?", the lyrics to "Rude" by MAGIC!. This was also the year Sia emerged and the hit show Dance Moms' Maddie Ziegler got to be in the iconic "Chandelier" music video. If you didn't try to reenact the dramatic and intense dance in the music video, you're lying. The song "Summer" by Calvin Harris really introduced us to the concept of having famous singers featured in a song by a DJ, which soon became quite a popular trend. The summer of 2015 was quite a successful one for The Weeknd, an artist who had yet to be popularly recognized. His song "The Hills" was a major hit that we can all admit to blasting in our cars as soon as we got our licenses and could finally drive without the rents!  Beyonce dropped her visual album out of the blue (no pun intended) that had a variety of songs that showed us a new side of Queen B, including "Partition", "Flawless", and "Drunk in Love." There was no warning to the drop of Beyonce's album, however it still topped record making charts and started the trend of surprise album drops that Drake has also taken part in. Sam Smith was for sure on all of our "feelings" playlists, especially when he came out with "Stay With Me". He really knew how to reach our emotional teenage hearts. I mean, anyone else remember the tons of teenage girls crying at Sam Smith when he closed at Lollapalooza? Who can forget Macklemore's interesting song "Downtown" that generated many mixed reactions from "This is great!" to "This can't be considered music". Whether you liked "Downtown" or not, ever since his first hit "Thrift Shop," Macklemore will always have a special place in our hearts. And of course, Ed Sheeran continued to melt our hearts with his romantic song "Thinking Out Loud" that we will probably all be playing at our weddings.
---
2015-2016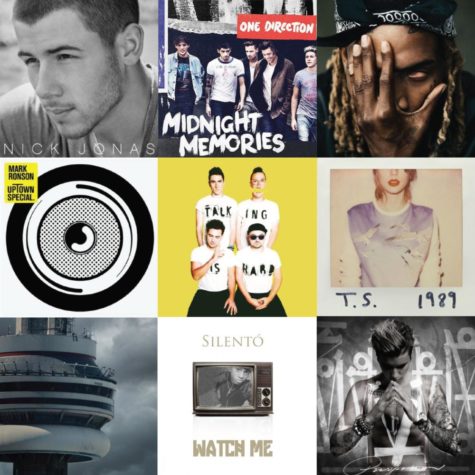 "Jealous" – Nick Jonas
"FourFiveSeconds" – Kanye West, Rihanna, & Paul Mccartney
"You and I" – One Direction
"My Way" – Fetty Wap
"Uptown Funk" – Bruno Mars
"Oui" – Jeremih
"Shake It Off" – Taylor Swift
"Hotline Bling" – Drake
"Sorry" – Justin Bieber
"Watch Me (Whip/Nae Nae)" – Silento
A wonderful year, the year our speakers were once again filled with the voice of Justin Bieber. It was impossible to not try and do the dance to "Sorry" whenever it came on. Ask a senior girl in our grade which dancer they want to be in the "Sorry" music video, and I guarantee they will have a specific answer. This was a year of comebacks, including Nick Jonas, with his song "Jealous" making us all feel like we were in sixth grade again, gushing all over the Jonas Brothers. And who can forget the brilliant trio of Kanye, Rihanna, & Paul McCartney singing "FourFiveSeconds," a definitive good vibes song. The summer "FourFiveSeconds" dropped, Paul McCartney opened at Lolla, and did anyone else feel let down when neither Kanye or Rihanna made a surprise appearance? The one eyed hip hop artist Fetty Wap made his way into our hearts in 2016, providing us with major "trap" songs. Drake had quite a few hits this year that graced the radio, especially "Hotline Bling," which sparked many Snapchat stories any time a teacher wore a turtleneck sweater saying, "Drake is that you?" Anyone else feel like Bruno Mars is super underrated? I mean every time this guy drops a song it's a major hit, but I feel like it's rarely acknowledged. We love you Bruno Mars! The Whip and NaeNae are dance moves, whether we could actually do them or not, that will forever be engraved in our minds. Just think, years from now we will be embarrassing our kids by doing the Whip and NaeNae and they will be screaming "Mom/Dad stop! You're so weird!".  It was this year that the world would hear One Direction sing together for the last time on "You and I". Taylor Swift then reminded us to "Shake It Off" and just dance through the stress of junior year.  At least while we were stressing about studying for the ACT, we had good playlists.
---
2016-2017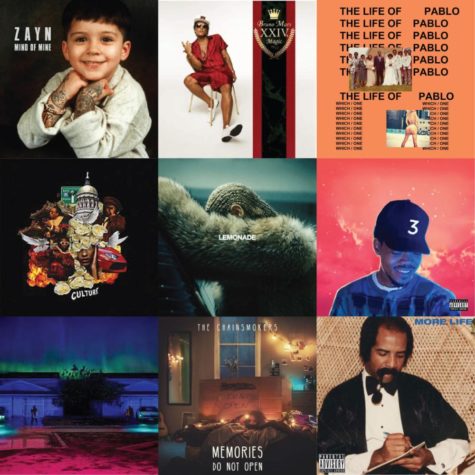 "24k Magic" – Bruno Mars
"Famous" – Kanye West
"Formation" – Beyonce
"Pillowtalk" – Zayn Malik
"Closer" – The Chainsmokers
"No Problem" – Chance the Rapper
"Bad and Boujee" – Migos
"Bounce Back" – Big Sean
"Passionfruit" – Drake
"Sign of the Times" – Harry Styles
This year Kanye dropped Life of Pablo and One Direction officially broke up resulting in Zayn, Niall, and Harry going solo. Zayn was the first to dip from the group, but he was definitely a trend setter for the rest, especially after he proved his worth without the band through his hit song "Pillowtalk". We seniors can maybe take notes from the peaceful breaking up of the band as we go our separate ways from our friend groups, and remember we too can be successful as we go solo at college.  Kanye's "Famous" sparked much conversation and juicy celebrity gossip, especially with the Taylor Swift portion of the song and the very controversial music video including political figures like Hillary Clinton and Donald Trump. Leave it to Kanye to bring everyone together. Once more Beyonce surprised us with another visual album, Lemonade, which provided us insight to Beyonce and Jay Z's marital struggles, flaming rumors for a few months to follow. But don't worry, Queen B and Jay are still going strong and showing a united front with their recent collaboration with DJ Khaled on the song "Shining". This past summer, "Closer" was everyone's favorite song. Did anyone really even get tired of it? If you didn't make a end of summer video with the song "Closer" playing in the background, it didn't count. For the end of our senior year we were blessed with the fresh Drake album, "More Life," that provided us with songs that will for sure be the soundtrack to our upcoming summer. Drake is one of the artists who has consistently been there for us these past 4 years, always providing us with the perfect song for any situation. RAIN DROP! Did you just say "drop top!" in your head? Last but not least, shout out to Chance the Rapper. What would our summer and senior year have been without Chance giving us some great Chicago pride through his songs? He showed us how to really have pride in our city and reminded us not to forget our Chicago roots wherever we end up next year.