Conductors: Senior club leaders
Hang on for a minute...we're trying to find some more stories you might like.
DHS has a long and storied history of clubs and sports, and it currently offers fifteen sports each for boys and girls, along with almost 60 clubs. With so many clubs, there are a large number of leaders, each tasked with upholding the reputation that the club or sport needs. Girls tennis co-captain Casey Borovsky, DECA co-president Jake Conway, and Key Club president Emily Markle shared their stories.
---
CASEY BOROVSKY, GIRLS TENNIS CO-CAPTAIN
In deciding to try to be a captain, Borovsky was inspired by tennis captains from past years to follow in their footsteps, saying "The girls years above me looked out for the rest of the team so much and really made an impact on my life, and I'm such good friends with them still… I always wanted to be [captain] because I had so much done for me, I wanted to do it for other people. So I ran for captain and I was so excited to get it."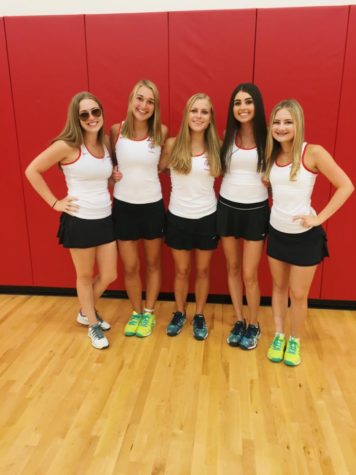 Being the captain, even of a small group like the tennis team, is a large responsibility, so co-captain Brooke Buranosky was right by her side to help shoulder that load. Borovsky could not have been more appreciative of Buranosky's help, saying of having a co-captain, "It's really nice. This year on the tennis team even though there's two captains there's only five seniors, so we've been working together to do stuff and we're all in a leadership position… it's really nice when you can have someone to go to to work together with."
Mature leadership is key, as Borovsky can attest to from her time with the tennis team, spending day in and day out helping to make those in the mentally and physically grueling sport be the best they can be.
"I think [as a leader] you have to be really compassionate because we've all had teachers who are really strict and teachers who kinda care for you, and I think we can all agree that you have more respect for people that take the time out of the day to care for you also," Borovksy said.
With a tight-knit group of tennis players who were close long before she was captain, Borovsky acknowledged difficulties with separating the friendships from her duties as captain. However, her care for the team was incredibly evident, and she always puts her teammates first.
"I definitely care more about how other people are impacted because I just felt such a strong impact from the older girls on the tennis team, and it's always been my goal to be that for others," Borovsky said.
---
EMILY MARKLE, KEY CLUB PRESIDENT
As one would expect, it was Markle's passion for service that allowed her to elevate to the highest position that the club has to offer.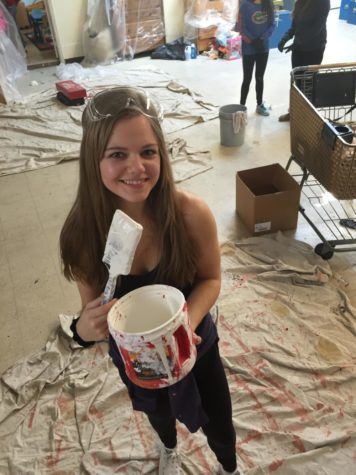 "I found that there were people very similar to me doing the projects and events in Key Club and I've always volunteered here or with my church group and that's always been part of what I do so I wanted to join a club at school with people like me who enjoy doing the same thing. So I joined freshman year and I liked the projects; I think the best thing was talking to whomever we volunteered for about how they appreciated our hard work," Markle said.
But unlike Borovsky, Markle did not have the good fortune of a strong, active club leader to look up to. Her freshman year, the year before  she became service project coordinator—a task she described as "hands down, [the club's] biggest officer position"—the president at the time did not go to any of the events, leaving her service project coordinator predecessor to run the club herself. It's something that Markle changed drastically as president, saying of the service projects that she's "someone who enjoys doing [service projects], so why wouldn't I go?"
With Markle's leadership presenting itself in such stark contrast to those who came before her, Markle acknowledged that it could be difficult for someone to keep up her strong example and continue her amazing work. However, she had some advice to offer.
"I think it takes a lot to put yourself in front of so many people—Key Club is one of the largest clubs at Deerfield, right now we have 100 active members, by the end of the year that'll decrease to about 35— but still, it's a lot of volunteers… You have to not just be a role model but you have to show that this is what you're passionate about; if you're going to be in that high up of a position you have to set that example," Markle said.
---
JAKE CONWAY, DECA CO-PRESIDENT
DECA is consistently Deerfield High School's largest club, seemingly always having roughly 200 members to start this year. The club weans down its membership by competing in three levels of competition—regional, state and international—over the course of the school year.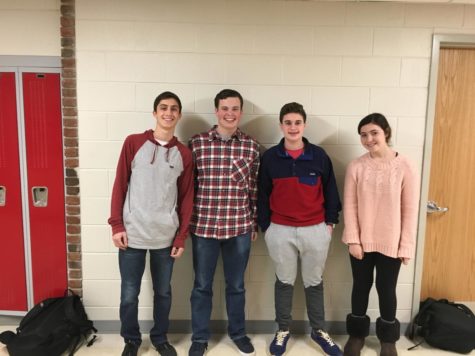 Even with two presidents and two sponsors (Mr. Lukens and Mr. Navickas), there is a lot of work to go around in organizing such a large group, and focus is hard to keep. That's where Conway and co-president Matthew Swill come in.
"We have to lead every meeting, that's the biggest role, but also making sure that everyone's ready for competition; that's definitely a challenge for a 207 person club," Conway said.
Conway strongly believes that his job would not be possible without the help of Swill and the officers who work in leadership positions below him.
"I think having a co-president as well as an officer team helps because it's not one person left to do all the work; we can split it up so it's not on one person's shoulders, and it's easier to get our message across," Conway said.   
DECA's success was evident this year, having sent 16 members to internationals in Los Angeles, and Conway hopes that the group continues with that level of success in his absence. It will be a big question mark for all three groups to follow in the footsteps of their highly respected leaders, but as shown, they have plenty of tutelage to offer to those who follow in their footsteps.