Full Reversal: Deerfield Wrestling's journey to the 'Decade of Dominance'
Hang on for a minute...we're trying to find some more stories you might like.
Deerfield wrestling is in its golden age. Conference championships and record win totals each season are not goals, but they are expectations for one of the school's most successful athletic programs. Over the past decade, Deerfield wrestling culture has been synonymous with dominance. Flashback to two decades ago, when the team was a failing project hanging on by its last thread.
Seventeen years ago Marc Pechter was announced as the head coach of the Deerfield wrestling program. The sport was on the chopping block. The team had three total varsity wrestlers, one of whom got injured mid-season, with only 20 athletes in the entire program. Their season resulted in 12 weight divisions being forfeited, and it had been 41 years since the most recent conference championship. The program desperately needed a reboot. Or a small miracle.
"When I first got here, the athletic director told me that I need to get more kids out for the team or otherwise we might drop wrestling at Deerfield High School," said Pechter.
The state of Deerfield wrestling was in emergency mode. Pechter was now in charge of reviving a program that had been, to say the least, dormant for the better part of DHS's history.
But the biggest challenge for the newly inspired program wasn't the low numbers. "The biggest challenge was changing the culture. Making people believe that they could win when they thought they couldn't," said the head coach. "Just getting them to believe, 'why not us?'"
The program was starting to develop its own distinct culture. Not of consecutive championships, but of effort and belief. For a program that hadn't won a single conference meet in 10 years prior to the hiring of Pechter, these were the two main ingredients in creating a winning culture.
The first step in creating an athletic powerhouse was showing that the athletes are capable of doing so. "I had to find some teams we could beat so they understood what winning was…. To get [to be an elite program] it was never really any big jumps." explained the head coach. The program had to learn how to walk before it could run.
Eventually, success began to snowball. One conference championship turned into two, which turned into four, which turned into the Deerfield Wrestling 'Decade of Dominance:' 10 CSL North championships, six CSL overall championships, dozens of 30 and 40 win wrestlers, and boasting several state-qualifying wrestlers throughout the past 10 years. Winning is now an expectation for the wrestling team.
The varsity program now has 14 wrestlers, and they're locking up yet another successful campaign with the hopes of sending athletes to state. When discussing the current culture of DHS wrestling and the expectations that come with it, varsity wrestler Jon Brown said, "The expectation is that you show up every day and practice your hardest… We're taught that we should expect to win everytime we're on the mat and mentally we're stronger than anyone out there."
From a group of 20 wrestlers just two decades ago, to a brotherhood of 48 today, one constant has remained: every single wrestler has a role to play. Every wrestler is expected to compete at their highest level. "The expectation is that you're gonna destroy at the conference tournament… If you're a JV wrestler for Deerfield, than you're still better than the varsity of some of the other teams," said JV wrestler Koby Preston.
Over the course of the 17 year evolution of Deerfield wrestling, the sport has grown from a team to a community—The Deerfield Wrestling Nation—stretching from sixth graders to seniors. It's now a fraternity of hard-working and proud Warriors who epitomize achievement through willpower.
"We're one of the hardest, if not the hardest sport, and we take pride in that. Like the marines, the few and the proud. We're coming here and we know that we're gonna work as hard, if not harder, than most any other team we will wrestle," stated coach Pechter. "We are not afraid to fail and if we get knocked down, we're gonna get back up, and we're gonna keep coming at you, and we're not gonna stop."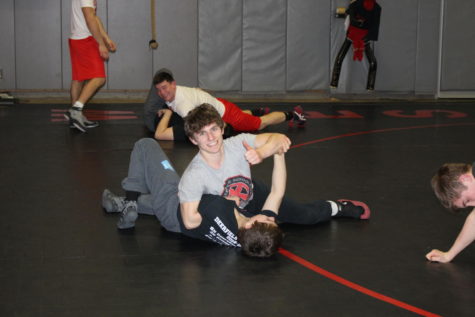 About the Writer
Uri Uziel, Staff Reporter
Uri is 16 and in his junior year, which is also his first year of Deerprints. Impressively, he's bilingual and can speak Hebrew on top of English. He...