Seal of Biliteracy Program Expanding at DHS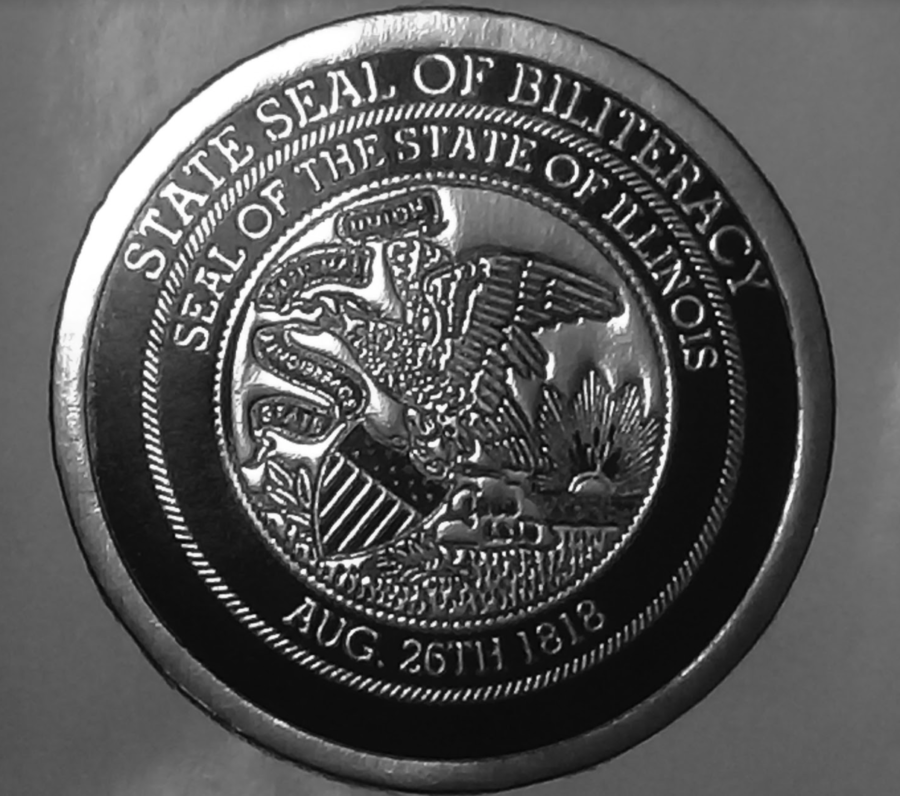 Out of 1,606 students at Deerfield High School, 1,263 students are currently enrolled in a World Language course, taking either Spanish, French, English Language Learning, Hebrew or Chinese. Some of those student then test to get the Seal of Biliteracy.
The Seal of Biliteracy is a national program designed to recognize students who have achieved proficiency level in at least two languages, including English. To earn the Seal of Biliteracy, students must take an AAPPL (ACTFL Assessment of Performance toward Proficiency in Languages) test to prove that they are qualified. The web-based AAPPL tests are offered to DHS students in September and April, and test all four language domains: listening, reading, speaking and writing. In order to obtain the Seal of Biliteracy, a student must be at the intermediate/advanced level in English and another language of choice. Students that do not meet this higher level proficiency level and attain the low-intermediate level in the language receive a Commendation towards biliteracy.
Donielle Escalante is the World Language Department Chair here at DHS. She is involved in the process of deciding when students are ready to take the test.  According to Ms. Escalante, "We usually recommend that students get to about the fourth year of study of a language, so most of the students who take the test are juniors or seniors, but you don't have to be. If it's a language you're fluent in already, you can test at a younger age.".
As mentioned above, the languages offered at DHS include Chinese, French, Hebrew and Spanish, but a student can take the AAPPL test in many other languages too. For example, last year native speakers of Korean tested in Korean.
The Biliteracy Program Seal is relatively new, but it is rapidly expanding and becoming more recognized in almost all states.  DHS students were first offered the opportunity to earn the seal during the 2015-2016 school year. Since then, there has been a remarkable number of students that proved that they had reached proficiency level in different languages.
Ms Escalante shares that  "Last year we had the biggest number of students taking the test yet. 75 students in DHS earned the Seal of Biliteracy last year alone. Also last year along we had 118 commendations towards biliteracy. We're really excited about those huge numbers and our goal is to keep growing."
But why did so many students choose to take the test last year? It would help to see what doors getting a Seal or a Commendation open for students.  For one, it allows a student to become recognized for their achievements. Passed in 2017, an Illinois state law states that all Illinois public universities must accept the Seal of Biliteracy as equivalent to two years of foreign language coursework in high school. It also states that all public universities in Illinois have to establish criteria for awarding equivalent course credit for the seal. Additionally, The Seal of Biliteracy is stamped onto a high school transcript during graduation, and it is additional evidence of hard work and determination. Even so, not all students choose to attain the seal. Glorianne Hamm, a World Language teacher at DHS, says that she "would like to encourage each and every student to go for it and try it. Students have invested many years sitting down in a World Language class, a lot of time doing homework and studying. If you don't go for the seal, it's almost like you didn't do it." Getting a Seal is a way for a student to prove his or her dedication to learning a new language. Many students spend many years learning a language, and they should use the opportunity to get recognized for it.
Now that the world is more and more interconnected through the internet and social media, universities and employers tend to look for biliteracy when admitting or hiring. "If you are one person who speaks multiple languages you are going to be able to fulfill the jobs of many people," says Ms Hamm. This makes a person an effective employee. The Seal or Commendation allows a student to demonstrate their biliteracy.  
Getting a Seal also means being exposed to another culture, different from the native one. According to Elizabeth Mansfield, a World Language teacher at DHS "[The Seal] places value on a variety of languages and cultures…it also sets students apart when heading to college but also in the workplace". This year, students will be taking the Seal of Biliteracy test and it is exciting to see the numbers of earned Seals and Commendations grow.