Deerfield High School Seeks to Continue Building Relationship with the Deerfield Community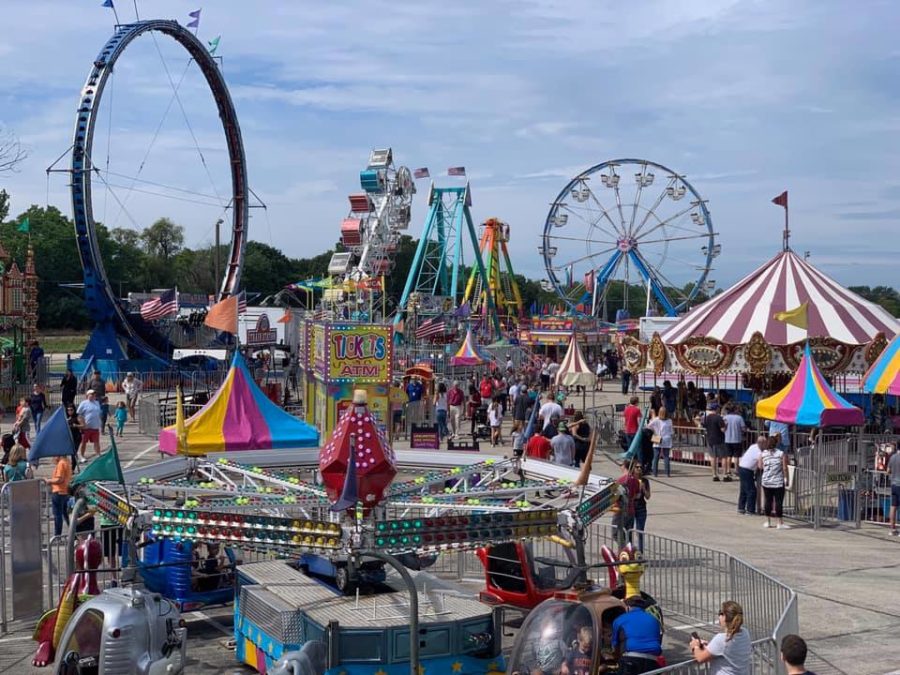 In recent years, there have been several unique opportunities for the Deerfield community to connect with Deerfield High School through various events organized by the high school. Among these events is the carnival held in the student parking lot, which has been held at DHS for the past two years. The focus of the carnival has been finding ways to encourage more members of the community to attend. This is just one way that the Deerfield community and the high school have started to work more hand in hand when organizing events. The carnival features a wide array of rides, games, and snacks that attempts to draw people of all ages, and the money that was raised will be used to fund a variety of student activities. There have been debates about whether the carnival, held in late August, has been a meaningful step forward in terms of better engaging the community.
Brian Verisario, the Director of Student Activities, played a large role in the organization of the carnival. He believes that the carnival was an overall success and had a substantial impact on the community and on high school students. He said, "We had increased attendance this year, and a lot of people came out Friday night as well as Saturday and Sunday during the day from the community too.'' The carnival drew many community members of all ages with various rides and attractions.
There has also been a debate about whether the lengthy setup and subsequent parking issues that came with it were worth it. There were concerns among many seniors about the parking situation at the carnival; it caused some students to not be able to attend activities because of the complications of the setup, and was one of the downsides of the carnival, according to some members of the student body. Verisario thinks it is a small price to pay in order to bring the community closer together. "I think sometimes we have to look beyond ourselves, and maybe something that's a little bit of an inconvenience for a couple of days is worth it when we can bring in something that is different and new and can be not just about us."
The carnival has been just one of the ways that DHS has attempted to bring in members of the community. Principal Kathryn Anderson is another one of the leaders involved in connecting larger high school events to the community. She believes bringing community members in to see sporting events and arts performances is key. "I think there's always something more that we can do, but it has to be a collaborative effort,'' Anderson said. The challenge with community engagement is finding a way to engage both DHS students and younger families in events. Many Deerfield students simply do not enjoy attending performances or sporting activities, and it is hard to convince many that it is worthwile to attend. Meanwhile, it is often hard to get the word out to families to attend high school events.
"One of the reasons why we started doing this was because the community wanted us to provide opportunities for people to come on our campus and kind of open up our place. It allows people, mainly younger people, to get excited about being a Warrior someday," said Verisario.
Anderson is optimistic about the rise of community engagement in recent years, but believes that there is still room to grow."I think we're starting to get more momentum for things like athletics and activities, where we can engage our community," Anderson said. She also said that she has had talks with middle school families in order to attempt to increase attendance at these events. The carnival seemed to be mostly attended by younger families and middle school students, and according to Verisario, this was one of the main intentions of the carnival. "One of the reasons why we started doing this was because the community wanted us to provide opportunities for people to come on our campus and kind of open up our place. It allows people, mainly younger people, to get excited about being a Warrior someday." The high school is prioritizing making younger students feel like they are a key part of DHS, believing that this will help the high school and the community strengthen their relationship even further.
Another way this is being done is involving community sports teams, such as Young Warriors football and basketball and the COHO swim club, by allowing them to hold practices, meets, and games at the high school. The high school also holds the graduation of both Shepard and Caruso Middle School, and the "Cable Game" held between the two schools' basketball teams. This allows for younger students to gain a sense of excitement about one day attending DHS and getting involved in activities at the high school level.
Despite some mixed reviews, it appears that the carnival will most likely be back for another year. The real question is whether or not the carnival actually should be continued in future years. There is a mutual desire between both DHS and the Deerfield community to help get younger families involved, especially those with children who will one day attend high school at Deerfield. So even though there are some slight concerns about alienating its own students, DHS events may start to become more centered around appealing to families. The high school administration believes that this will ultimately lead to better school spirit in the future and as a result, will continue to go to great lengths to include community members. When asked about whether the carnival was worth continuing, Verisario said that "It's worth doing something. Whether it's the carnival, or some other idea brought to DHS, anything that brings the two communities closer together is worth it."
About the Writer
Spencer Farber, Staff Reporter
Spencer Farber (class of 2022) is currently enjoying his first year in Deerprints. In his free time, he also enjoys playing tennis, writing, and hanging...