Students Take Strike: Youth Activism at DHS
On the unseasonably hot Friday morning of September 20, 2019, thousands of high school students from across Illinois marched towards Federal Plaza in downtown Chicago. This protest, known as the Climate Strike, connected young people through the desire to protect the earth's climate from global warming. Among the many diverse groups of kids who marched were Deerfield High School students.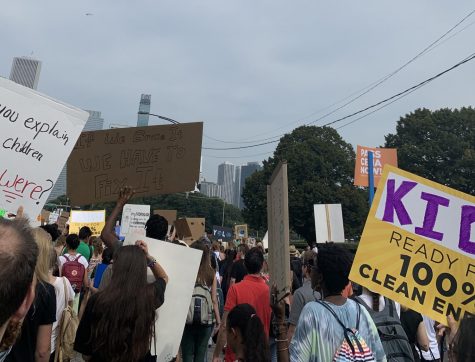 This strike is an ongoing global movement to give youth a voice in political affairs on both a local scale and nation-wide scale. Recent statistics concerning climate change and its effect on the Earth have sparked this worldwide movement, headed by a youth that demands government action to prevent these effects from harming the planet. According to NASA, an average of 413 billion tons of ice melts every year in Greenland and Antarctica as of 2019. In addition, the UN has recently stated that the world has about eleven years left to prevent irreversible damage to the climate. Following the announcement of these statistics in 2017, Greta Thunberg, a then 14-year old Swedish climate activist, called on world leaders for climate action, which touched a chord with other young activists across the world. Although she speaks at international conferences and has testified before the U.S. Congress, it is important to realize that she started in the same place as fellow high schoolers. Thunberg began as a lone activist, skipping school one day to sit outside the Swedish parliament building for their lack of action to protect the environment. Today, she is the face of the climate change movement and inspires Gen Z kids everywhere.
Climate change has been gaining traction as of recent years and is one of many that have incited political protests across the globe. In 2018, the world saw the birth of the March For Our Lives movement, which was led by teens from Marjorie Stoneman Douglas High School in Parkland, Florida. It was not only led by students but the victims of their cause, which is in this case, gun violence. This ignited walkouts at schools across the nation that have also led to major changes in gun legislation in our community.
However, topics to campaign for do not have to be as monumental such as gun safety legislation and climate change and can be as small-scale as a stand against a particular monument being built or even a post on Instagram.
Ms. Antonakos, a social studies teacher and facilitator of the Human Rights Club at Deerfield High School, interacts with young activists as a part of her role in the club. She describes the youth today as articulate in voicing their opinions about injustices, especially with the help of social media. She adds, "I want them (students) to be careful of how they double-check the information they've posted. But if they're offered to take action through hashtags and reposting and it ends in amplifying a point of view, it can be very powerful."
While posts on social media are important, participating in protests is also a key component in advocating against injustices, which seems like it takes a lot of time and commitment. This often becomes the deciding factor in whether a student will attend a protest or not. 
Serena Worley, a sophomore at Deerfield High School and a participant of the recent climate strike, is part of the rising movement for environmental justice. She advocates for student activism and is a youth activist herself.
"You go to school to prepare for your future, but this (taking action) creates more impact on what lies ahead," said Worley
She also admits that students from Deerfield have an advantage in inciting action, due to Chicago's influence and impact. Not only does it spread influence in the city's limits, but even our own politics. She adds, "If Cook County does something, Lake County is very likely to follow or consider it, creating awareness in a large vicinity." 
Although it is commonly known as the adult's "job" to shape the world, kids have taken the initiative to create political and social change, which was global warming this September.