Warrior Football Finds Success during Best Season in Thirty Years
After thirty years of uneventful seasons, the DHS football team "exploded" to the semi-finals of the IHSA playoffs. The heart-pounding games all led to a climactic semi-final match. The season, on and off the field, was full of twists, turns, fun, and hard work. Coach Winiecki, having finished his twenty-first season as head coach, credited the success to the new team philosophy, "We changed what we do, in the culture and the program, two years ago, the seniors were sophomores then, and they kept building in the offseason, in the weight room, at summer camp and they grew and got better and more confident." According to Winiecki, the football team has worked hard and built trust with each other during the offseason and in practice to help strengthen the team chemistry, thereby making the team better and giving them more confidence. The cycle has clearly worked,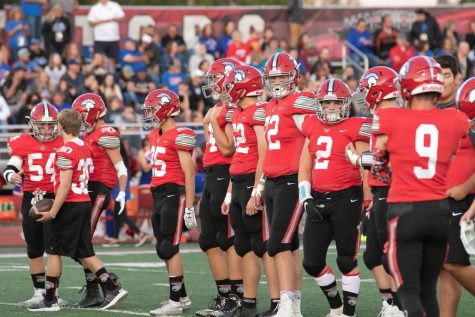 earning the football team a final 10-3 record in the semifinals. The seniors are also happy about the season. Captain Matthew Dawson gave his description, "When things at the beginning of the year go well, like when the carnival is fun and the team is doing well and lots of people are going to the games, that shift, that positive energy, makes our accomplishments feel like we really made something out of it and that's great." The students and their families' support is a large part of their success–knowing that people were behind them gave them a confidence boost. In fact, a fanbase can make or break a team. When the stands were full and the students were cheering, the team was ready to go. The senior captains believe that the underclassmen are "totally ready" but "trust is really important" so only time will tell how the team will perform in the future. Captain Dawson expressed his optimism, explaining "a lot of what we were doing in practice was working with the younger guys. Then, having watched us and playing against us during practice, they are 100% ready to take the next step." The freshmen and sophomores have the ability to repeat the team's success but it is up to their work ethic and the support of the Deerfield community to propel the team to victory.