The Academic Resource Center and its New Appointment System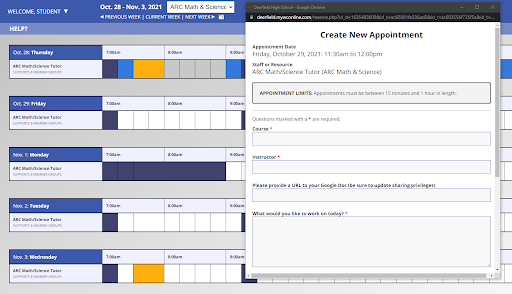 While the lockdown last year forced students to stay home, it had a silver lining for the Academic Resource Center (ARC): it provided an environment to experiment with an appointment system. Now that students have returned to school, the ARC aims to build on its pandemic adaptations by integrating this new system into the in-person setting. Its staff members hope this change will bring more stability to its operations while facilitating tutoring services. Today, students can make guaranteed appointments at deerfield.mywconline.com or walk in to receive help on a first-come, first-serve basis.
The system was kept in place because it provided two critical benefits previously absent in the ARC. For the students, an appointment marks a designated time where their tutoring is prioritized. Mrs. Clark, the supervisor for the ARC's math/science department, compared it to getting a haircut. "If you have an appointment, you get your haircut right away," she said, "If you were wandering off the street and say, 'I want to get my hair cut,' you're gonna wait twenty minutes. If you want to know that you're going to get help at a given period, then an appointment is the way to go." Since the ARC is not exclusive to math and science, students can feel confident that they will receive assistance in humanities-related subjects as well, which is especially helpful due to the frequency of essays and projects in these courses. By allowing students to secure guaranteed times in their busy schedules, ARC Humanities staff hoped it would "alleviate some stress about meeting deadlines." 
Additionally, the existence of the new system removes indecisiveness among students. A challenge for the ARC had always been ensuring that everyone knew about its existence and its general accessibility. Mrs. Clark believes appointments will establish a sense of commitment from otherwise reluctant students. "I think that there's a certain responsibility—if a teacher or an aide helps them make an appointment, then there's an expectation," she commented. If a student has a constant reminder of their obligations in the form of a planned ARC appointment, they are much more likely to follow through. By allowing students to set up times weeks in advance, she hopes the new system will be especially beneficial to those who "really need to be in here and choose not to be." 
Furthermore, the practice of making regular appointments has allowed for greater consistency in tutoring. Eliza Kalina, a student tutor for precalculus at the ARC, described her experience this year, remarking, "It's really interesting how the ARC operates now because students have to make appointments, which allows some consistency to know we have enough tutors for this [period] and I don't feel overworked." ARC appointments have enabled her to have regular weekly meetings with the same student. These meetings have provided users of the ARC access to longer and more consistent assistance over several appointments. Mrs. Clark held that when students are able to plan multiple appointments in advance, they can be paired up with specific tutors to aid them over longer periods of time. "There's a certain type of student that appointments are probably a really good thing for because then they feel it's like a class," she added. They know that when they step in the door, their tutor will be waiting for them to pick up where they left off at the last meeting.
Among supervisors and tutors in the ARC, the new system has been widely appreciated for the ease in planning it has brought. When students sign up for appointments, they are able to describe in detail what they would like to work on, something which would have required a separate email in prior years. To meet the needs of individual students, supervisors can acquire tutors ahead of time based on what subjects need to be covered. Despite its name, ARC math/science covers a variety of topics ranging from economics to computer science—and even Spanish. "Appointments make it helpful that I can react to the more obscure topics, " Mrs. Clark stated. For instance, when she saw an appointment had been made for computer science assistance last week, she was able to call in one of the student tutors who had taken the class previously. Eliza shared similar views, elaborating "In the past, I know they [the ARC] have often had a lot of students that they couldn't match with tutors, now I feel like it seems more even and the vibe of the ARC seems more well-rounded with matching students." She was particularly thankful for the benefit of knowing what she would be tutoring, as this helped her prepare for sessions. 
From the foundation of separate resources centers as early as 1987 to their consolidation in 2012 into the ARC as we know it today, the model has always been to provide students with readily available assistance. Mrs. Clark acknowledged that some students were intimidated by the adoption of the new system. "There was some pushback about the appointments because I've been here 22 years and it's always been drop-in," she explained, "If anyone ever has an inkling that they think they might need help with math, they can walk in, and it's easy. So, they felt like the appointments were a bit of a barrier." To address the concerns of these students, traditional walk-ins continue to be facilitated alongside appointments. Nevertheless, the new system alleviated some of the difficulties of the ARC. To Mrs. Clark, it proved its worth when she supervised without a coworker for ARC math/science for the first month and a half of the school year. Specifically, she recalled a time where 18 students had all made appointments for the same time slot. She was able to organize their seating and materials in advance, making the entire process more streamlined and efficient. Although a remote environment was instrumental in the creation of the new system, such a change has not only been helpful for contact tracing, it has also improved the logistics of the ARC to provide academic assistance. As students return to the physical classrooms of DHS, appointments will likely remain a permanent part of an evolved ARC in the times to come.