Three Exciting Musical Acts in STUNTS Underground
Tonight in the DHS auditorium, the cast and crew of STUNTS will be presenting their production of STUNTS Underground. For the first time in two years, audiences are able to witness live performances in the auditorium. "The pressure of not being able to film something and have it not go well is like walking a tightrope, so it better be good," DHS tech director Michael Clack says. Although they had little experience with a live audience during the lockdown era of the pandemic, three exciting acts provide STUNTS with performances that will have people out of their seats.
VoiceMale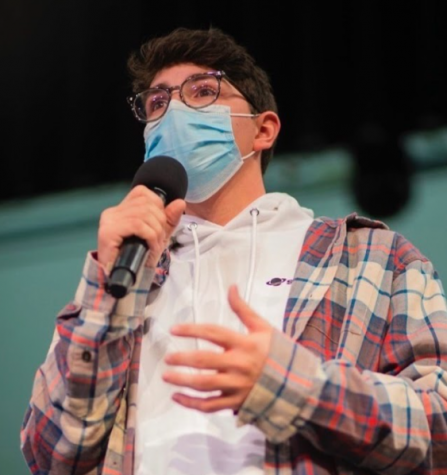 VoiceMale is the all-male a capella group composed of numerous students from DHS. Deerprints had a chance to speak with one of the soloists of the group, senior Will Hulsey. VoiceMale is a long-running STUNTS tradition, performing several songs without any live instruments. Hulsey and the rest of VoiceMale will be performing The Maccabeats arrangement of Daniel Powter's "Bad Day." STUNTS Underground will be the second time DHS sees Hulsey sing in front of an audience. The vocalist got involved with STUNTS through the DHS choir program but, Hulsey noted,  VoiceMale is an open group for those who want to join, regardless of singing ability. "[We] really wanna be the exciting part of STUNTS, I know STUNTS is very exciting but [we] just wanna be another piece to that puzzle," said Hulsey when  asked what he was most excited for folks to see. Drawing influence from singers such as Maroon 5's Adam Levine, Hulsey and the other VoiceMale soloists give the audience a captivating performance—without using any instruments.
Ghost Town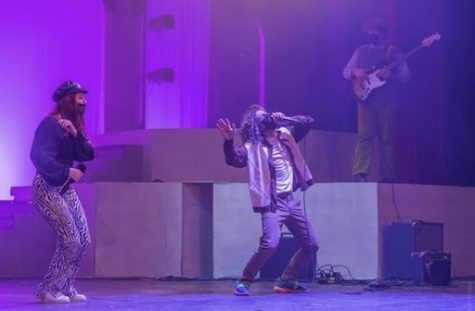 Another musical act in STUNTS this year is the rockin' cover of Kanye West's "Ghost Town." Vocalist Leo Baum (center), who will be performing in his third year of STUNTS, spoke about what makes this act so special. The set opens up with a snippet of Shirley Ann Lee's "Someday," just like in Kanye West's original recording. Baum uses an autotune pedal on his vocals to replicate the effects that West uses in the song, an added detail that Baum mentioned will definitely make the performance of "Ghost Town" feel like the original studio recording. Taking inspiration from the likes of Kanye West, Bruno Mars, and Anderson Paak, Baum, with the help of Eden Chaban, who sings the hook (left), Aryeh Levy on
bass (right), Jack Donenberg (keys), Lucas Gomez (guitar) and Matt Berk (drums) will awe the crowd with their performance.
Metal III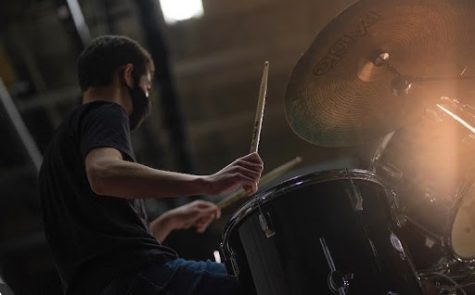 Performing a cover of "This Mortal Soil" from progressive sludge metal outfit Mastodon, Lucas "Ginger Jesus" Lewitt (vocals, bass), Jonah Simon (drums), and Alex Polovin (guitar) will be rocking the stage with a multi-phased performance that takes the trio through multiple uncommon time signatures and a mix of majestic shouted and clean vocals. Before STUNTS, Lewitt and Simon's band, Lyra, worked the track into their set as they wanted a heavier, metal-oriented cut to perform live. The two had decided to perform it for STUNTS and enlisted Polovin to play guitar. Simon finds that "It was a lot of work to get it to where it is now but it's really fun." "This Mortal Soil" is without a doubt one of the most exciting acts in STUNTS this year, but behind all the noise and feedback, it is extraordinarily technical and hard to execute. "Getting the sheer force and power behind it is a lot more difficult… By the end, I'm out of breath and totally exhausted," said Jonah. "I'm excited for the audience to see metal for the third time in STUNTS, people are kind of expecting it. At first, everybody's minds were blown to see metal in STUNTS, [and] now that it's become a mainstay, I'm excited to see people's reactions," the drummer said. To the naked ear, extreme metal genres may seem to be "just noise," yet underneath is complexity of composition that rivals jazz and classical music. "If you look at genres like Metal or Shoegaze, you'll be able to appreciate from each generation the art that each performer had the same amount of skill and practice and heart, they're just as much artistry as anything classical," Simon explained.