Ben Shvartsman: Jack of All Trades and Master of All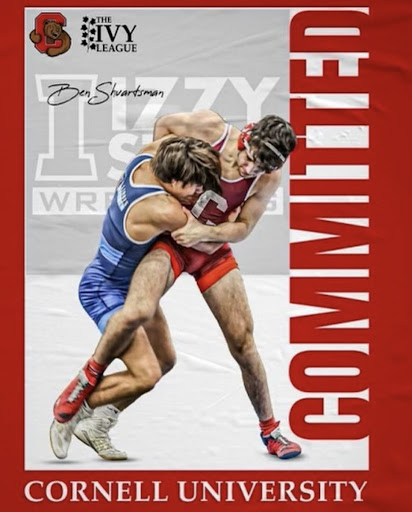 It takes a very unique combination of drive, dedication and talent to not only succeed at one thing, but nearly every single activity one sets their sights on. These characteristics—along with the strong support of his family and mentors—are what Deerfield senior Ben Shvartsman credits as his recipe for his success. Ben's list of accomplishments is as long as it is impressive, and the culmination is undoubtedly his recent commitment to wrestle for Cornell University where he will major in computer science in the fall.
Ben began wrestling his freshman year and credits his work ethic and mentors for his rapid growth. While going from a freshman beginner to a D1 commit by his senior year is incredible in its own right, his past history of success in judo, ballroom dancing and chess provide the background that make such a tremendous climb in ability possible. Not only has he participated in this wide variety of activities, he has consistently reached the highest level of competition in every one of them. 
Shvartsman started playing chess at three years old and quickly found himself caught up in the competitive nature of the game. He began competing at around twelve years of age and reached an online ranking of 2000 Elo—considered expert level—and has been a captain of the DHS chess team all four years of high school. He loves the mental exercise and strategy of the game, and to this day considers himself a chess player at heart. 
His ballroom dancing career began unconventionally at eight years old; he was roped into it by his younger sister, who had trouble finding a dance partner. "I never liked it" he noted, "But I feel good making people around me feel good so I got myself through it." His love and appreciation for his family is so strong that although he was never very passionate about ballroom dancing he was determined to work hard and succeed for his sister. They improved rapidly and, as with all of his other sports, the taste of success heightened his determination. Throughout middle school, the sibling duo won several Midwestern regional tournaments together. By eighth grade, Shvartsman reached the climax of his status as a Renaissance man, simultaneously competing from the regional to international levels in judo, chess, and ballroom dancing. Judo, which he began at five years old, was where he lay the foundations of his life as an athlete. He competed for Team USA at the international level in seventh and eighth grade in two Pan-American championships in Peru and The Dominican Republic, in addition traveling around Europe to attend training camps. Through judo, Shvartsman has learned both respect and what it means to be an athlete, along with undergoing extensive technical training and physical conditioning.
Shvartsman claims that this background in judo gave him his initial head start in wrestling, but he was in no way a champion when he started. It took the faith of his coaches that he could be great to bring him to being ranked number one seed in Illinois going into his senior season and the reigning champion. Head wrestling coach, Marc Pechter, states that it was "the fact that… he's extremely intelligent," along with his unique skill set and obvious work ethic that set him apart early on. He emphasized that Shvartsman's background in chess was particularly important, as a wrestling match shares many characteristics with the comparatively docile game. Pechter also noted how cerebral wrestling is, and he foresaw that Shvartsman's academic excellence and natural talent would lead to greatness in his future. With this intuition, Pechter went out on a limb to get Shvartsman into the best gyms and to work with the best coaches in the area. Coach Pechter observed early on how Shvartsman was thriving in the program and recalls how placing at state as a sophomore impacted him. According to Pechter, "He had a taste of success early, success breeds success." Shvartsman also recalls how the talented upperclassmen he observed as a freshman inspired him and emphasizes the bonds he feels with his teammates as they push themselves to be the best they can.
Ben is eager to join this highly decorated team of 40 talented Cornellians and take advantage of their program, which has produced several Olympians and even a world champion in recent years. With an early commitment out of the way, Shvartsman can focus all his effort on defending his state title and motivating his teammates as they enter into this year's season, representing Deerfield with pride.