Next Year's New Curriculum: A Change by State and School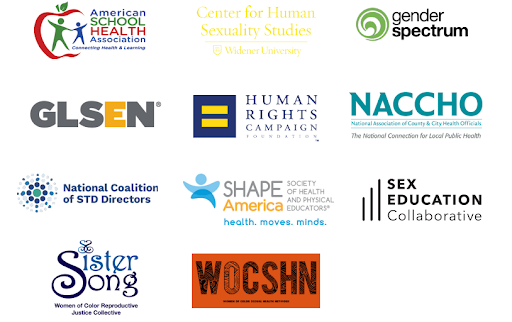 On Aug. 20, 2021, existing laws governing Illinois sex education were replaced when Governor Pritzker signed Senate Bill 818 into law. Also known as the Keeping Youth Safe and Healthy Act, it has given the Illinois State Board of Education until August 2022 to adopt and reform curricula to fit the new statute affected by the legislation. Specifically, this bill is focused on ensuring "comprehensive personal health and safety education" and "comprehensive sexual health education" towards grades K-5 and 6-12 respectively—in fact, these phrases are underlined multiple times throughout the bill itself. Under this legislation, comprehensive sexual health education is defined as age-appropriate information as determined by the National Sex Education Standards (NSES), including, but not limited to, "consent and healthy relationships, anatomy and physiology, puberty and adolescent sexual development, gender identity and expression, sexual orientation and identity, sexual health, and interpersonal violence". 
With the implementation of the new health curriculum on the horizon, the Illinois State Board of Education has created a committee tasked with the charge of reviewing and amending the health guidelines. Through this, the leaders of Spectrum, the LGBT+ and ally alliance at Deerfield High School, were able to directly interact with the policy-making process when they attended committee meetings alongside delegates from Lurie Children's Hospital and other interest groups to put forward revisions to the regulations. The new curriculum follows the guidelines recommended by the NSES, which contains a table of criteria separated by grade level and sex education topics detailing what a student should be capable of after attending a certain grade. These criteria include being able to describe the cognitive, social, and emotional changes of adolescence by the end of 10th grade as well as being able to analyze factors that can influence decisions about pregnancy by the end of senior year. Connor Vishnoi, a co-leader of Spectrum, supports the adherence to the NSES. He praised, "The [new] curriculum is a lot more comprehensive. It starts students off at a young age, introducing them to the topic and then, as they get older, they get more into proving their understanding through analysis." Today, the same committee is in the stage of figuring out methods of implementation and creating resources for teachers to put the new health curriculum into effect.
Another facet of the Keeping Youth Safe and Healthy Act is its commitment to inclusivity. The legislation specifically calls for materials and instruction which are "inclusive of gender, gender identity, gender expression, sexual orientation, and sexual behavior." Under the status quo, requirements to cover marginalized communities—such as victims of sexual violence or people of diverse gender identities—ranged from sporadic to outright nonexistent. The new health curriculum would incorporate information about the aforementioned groups, further helping to normalize them. As Spectrum leader Joya Weissman put it, "Students hearing from teachers and trusted adults at a young age, exposing them to different types of people so that they don't feel alone or isolated, and then being consistent and continuous with it throughout their whole education is very impactful." Spectrum is especially optimistic for the implementation of the new curriculum as it spans grades K-12, offering a chance for traditionally neglected topics to be intertwined throughout a student's development. "Instead of having a day where we talk about minorities or gay people, it's interlaced to the curriculum as an equal portion, " the student leaders said. "It doesn't otherize LGBT people, it treats them as a standard alongside the regular health curriculum."
In Deerfield, curriculum changes are also in motion at the school level. DHS students will now find "LGBTQIA+ Literature" as a Senior English course listed in the 2022-2023 Program of Studies. The addition of this course for seniors marks a new entry in the list of specialized English courses, which currently consists of Race & Identity, the Nature of Competition, and Science Fiction. The inclusion of such a course started over a year ago as a suggestion made by District 113's Equity and Inclusion Committee. Since then, the English Department would work to translate that idea into a course it could offer to students. Dr. Brian Wise, the English Department Chair, detailed the reasoning behind the course. Drawing from professor emerita at the Ohio State University Rudine Sims Bishop's idea of providing windows and mirrors through literature, he explained, "We hope that this course, for some students, might offer a mirror, a chance to have themselves represented in the curriculum in ways that maybe they have not in the past. And, for other students that may not identify as LGBTQ, it's an opportunity to have the window open to new perspectives." As the structure of the course itself awaits to be finalized over the summer, some information about it is set in stone. The new course will focus on developing core English skills while examining literary works throughout multiple time periods with a perspective that is focused on LGBT+ topics.
The road to this point had been one of debate and discussion. Almost an entire year ago, the introduction of the Keeping Youth Safe and Healthy Act on the Illinois Senate floor put many at odds as the Americans Civil Liberties Union and the Catholic Conference of Illinois bumped heads over sex education. Nonetheless, groups at both school- and statewide levels have been working hard to effectuate greater inclusivity from policy and proposals into tangible change for the students. Today, many students are optimistic for the future of their education as the next school year will bring with it a number of curricular changes recognizing the marginalized at Deerfield High School and across Illinois as a whole.