The Importance of Stage Crew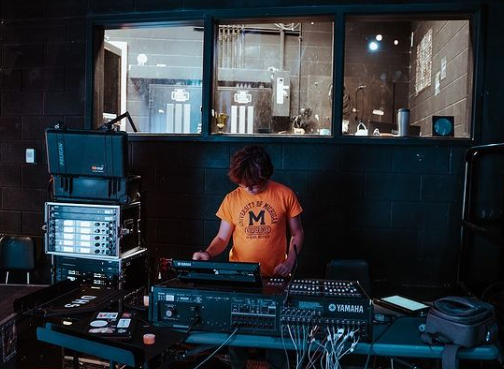 During the 2021-22 school year, the DHS theater program has provided our community with a multitude of incredible productions. With the hilarious Noises Off, the powerful Antigone, and the breathtaking musicals Fiddler on the Roof and Heathers: The Musical, DHS theater has made this school year one to remember. With that said, not enough recognition goes to the magical community that works behind the scenes to bring each performance to life—stage crew.
I started doing crew this year during early October to work on the show Antigone and immediately felt like I had been welcomed into a new home. It is the community that stands out at DHS stage crew, and to me, those bonds are what causes those involved with crew to deliver such a meticulously crafted production. I got the chance to hear from some upperclassman on crew to find out what it feels like to be a part of the community. I spoke to senior and theatrical lighting expert Brady Fisher, who was heavily involved in crew this year as the lighting designer for Noises Off, STUNTS, Dance Company's This I Believe, Heathers: The Musical and was the Stage Manager of Fiddler on The Roof, told me about the magic of getting to be a part of "such a welcoming and friendly community." He always felt great seeing the response to the hard work put into the stories the members of stage crew work together to help tell.
Al Todd, a junior at DHS who is involved with stage crew had the chance to share a similar experience where they found themselves in a situation out of their comfort zone. Todd said that during the 2020 musical Mamma Mia! they had felt extremely stressed leading up to the performance. Yet because of the help from peers around them, Todd learned how to de-escalate further stressful experiences thanks to the accepting atmosphere of stage crew.
Before the final performance of Heathers, myself and other crew members heard from other seniors like Fisher reflect on their experiences at stage crew. Heathers scenic designer Alice Poznyak said that crew had been the first place where she truly fit in. The acceptance of the community within stage crew is what motivated Poznyak to continue to pursue technical theater at The University of the Arts in Philadelphia. Senior Jessica Reiken added that throughout her time at DHS "crew became less of a place, and more of a second home."
My own experience with crew over the last year has been nothing but positive. Throughout this year—my first year doing crew—I realized that crew had become a place where things like gender or sexuality were completely obsolete, and that everyone there just wanted to share their love for theater, but most importantly, a shared love for acceptance within a community.
My first day there, during the production of Antigone, I had immediately enjoyed how the people around me made me feel. When I first walked into the studio theater I was immediately met by DHS' technical director Michael Clack, who is one of the many reasons why I view stage crew as such a special place. The first thing that I noticed about him is how he exudes positive energy to everyone who is at stage crew on any given day. Because of his amazing personality, Clack is able to create a welcoming space where people are motivated to work.
Looking back on my first day of crew, it's hard to imagine that I became so passionate about it. Originally, I was looking for something to do when the fall sports season had ended. A few of my friends went to the crew so I figured I'd give it a try. After he was done getting my name wrong or referring to me as "new kid," I finally got accustomed to the incredible human being that is Michael Clack.
To elaborate on this further, my own work on this year's production of Fiddler on the Roof wouldn't have been possible if it weren't for Clack giving me the opportunity to step into a role I was relatively unfamiliar with. For Fiddler, I got to sound-engineer the show, a daunting task for a freshman who had only pushed around platforms in previous shows. As I began to work more independently on Fiddler, I learned so much about the world of theatrical sound design in the span of about two weeks. Throughout this process, Clack gave me the confidence to be able to do such a difficult job.
It's this motivation to make every prop, staircase, and lighting design exceptional that keeps me coming back to the crew. This is because stage crew has always been an environment where I have been able to step out of my comfort zone. Throughout the year, I learned that stage crew is such a special place because everyone there is truly themselves. To me, this is what makes the world of theater so magical— its welcoming environment.
Another reason why I became so attracted to joining the stage crew was because I wanted to be in a safe environment where I could express my sexuality. Queer identification, in most places, can often be met with stigma from those around me. Fitting into environments containing mostly straight people has been quite difficult, but at stage crew, that simply isn't the case. The welcoming environment I was surrounded with at crew made me realize that the reason why DHS' theater program has seen so much success is because of the dedication of the individuals behind the scenes. This dedication, for me, came from being in a space where I wasn't afraid to exude homosexuality.
In essence, stage crew, to me, holds its importance as a shared love for theater motivates those involved to create a world for the actors to present themselves in. I see crew as more than just a group or team effort; DHS stage crew is a collective, and it's one that I am extremely grateful to be a part of.