D113 Teachers Unionize, Ending One of the Last Non-Union Districts in Illinois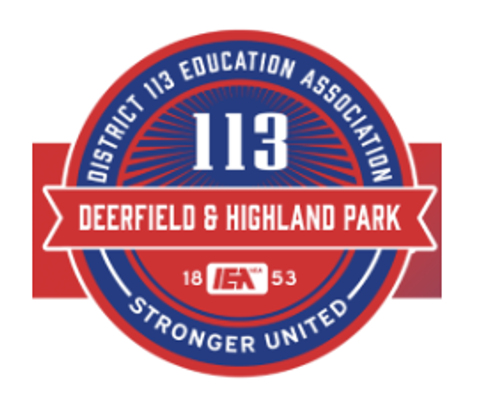 In March of 2022, the District Educators Association (DEA) formally decided to unionize following a typical organizing procedure called a card check. For decades, the DEA operated as a collective bargaining body to represent teachers in District 113. However, they were not affiliated with either of the two major educators unions until this August, when the Illinois Labor Relations Board officially recognized the DEA , marking the end of "the last non-unionized high school district in the state." As the teachers enter into a new negotiation year with the administration, it is uncertain how much of their previously collaborative relationship will remain with the new contract. 
Prior to the decision to unionize, the teachers and administration held what many considered to be a relationship of mutual respect. Marty Esgar, president of the DEA and biology teacher, called this long standing dynamic "symbiotic." District superintendent Bruce Law agreed: "We had really great communication," he said, "If there were issues, they let me know; if I saw issues, I let them know and we worked together to try to solve problems. I had a great working relationship with them." The DEA, however, believes this relationship has become degraded over the course of many years. "It wasn't that people were 'mean' at the district office or that our superintendent was mean to us or anything else," Esgar clarified, "but it became pretty apparent that it didn't feel like they were interested in collaborating with us to the same degree." The source of this frustration is certainly not easy to pinpoint. Nonetheless, it has led to a deterioration in the communication between teachers and administrators. 
Additionally, Deerfield educators have expressed a growing concern over the need for broader legal representation and support during negotiations. Social studies teacher Lisa Allen explained that the flexibility historically afforded to teachers in District 113 could become endangered. "People have felt some of the protections that we've gotten used to actually needed to be written down and legally protected," she added, "We almost act as if certain things are legally protected within the contract that aren't." As a non-union district, the contracts signed by teachers left out many specifications as any potential disagreements with the administration were ironed out by the DEA. Specifically, "the current contract is really just a salary and benefits agreement, which are mandatory topics of bargaining," Dr. Law clarified. In prior years, this lack of exact regulation regarding working conditions gave teachers degrees of freedom unlike any other district in the state. Office time outside of class to meet with students, for example, was entirely up to the teacher's discretion. Helen Crowley, one of the DEA's former committee chairs and a teacher for over thirty years, called this situation a "fluid working environment." The district has always trusted the teachers to develop their own curriculum and spend their time with students, she recalls. However, as of last march, the DEA have arrived at a point where they see unionization as a necessary measure to ensure the previous protections enjoyed by teachers.
The need for codified legal protections is not only about the negotiation of salaries and benefits; another concern is the frequent turnover of district leadership throughout the last decade. Eight years ago in 2014, District 113 did not renew the contract of then Superintendent George Fornero. This also roughly coincided with the planned retirement of Deerfield High School Principal Audris Griffith and the controversial sudden dismissal of Highland Park High School Principal Brad Swanson, resulting in a great loss of experienced and district-cultivated leadership. Crowley shed light on the unique importance of faculty expertise in District 113. "Because we were not a union," she said, "we relied an enormous amount on institutional knowledge." As one of the only non-unionized high school districts in the state, any procedures that might be different from other schools' relied on administrators who understood why it was different. However, the five years between the departure of George Fornero and the hiring of the current superintendent Dr. Law did not exemplify that typical institutional experience. Throughout this period, the district hired multiple superintendents—one of which was forced to resign—and went through a series of interim superintendents as well. The result, according to Jigar Vora, an economics teacher at DHS since 2007, has been "a decline in staff morale" he has felt ever since he started working here. "I think it unfortunately has to do with the fact that there's been a lot of turnover in the district leadership," he commented, "maybe that's caused some animosity between the staff and new leadership." In this way, the decision to unionize was the culmination of a decade-long shift in the administration as well as the erosion of institutional knowledge during that shift. As Esgar put it, "Something happened along the way, I honestly think a lot of superintendents don't know how to deal with us."
This breakdown in communication and palpable frustration was exemplified last May in the form of a letter from the head of human resources, Thomas Krieger, to teachers. The contents of the letter detailed a work day for teachers that was more rigid than what they were used to, including defined start and end times for how long they were expected to be in the school. To Dr. Law, this communiqué was a "proposal," whereas Ms. Crowley described it as an "edict." In late January, Dr. Law notified the existing DEA president, Jerold Lavin, of this plan. Although the two did have meetings on the topic afterwards, whether or not this information reached the other teachers is unclear. When it was sent in May, many teachers felt the letter was uncharacteristic of District 113. "[It was] very out of keeping with the nature of the relationships that we've had," Crowley said. During the Board of Education meeting in June, dozens of teachers spoke out publicly against it. Following significant backlash from teachers, Mr. Krieger rescinded the letter six days after he had sent it. "[Lavin] and I both knew that there was only so much he and I could do," Dr. Law explained, "This needed to be a larger conversation. Which never happened, as you know, from the meeting in June." While both teachers and administrators have recognized this entire chain of events as the result of growing miscommunication, it has still produced a lot of unnecessary ill will on both sides. 
The unionization of District 113 follows a wider national trend towards unionized education. As such, many teachers and administrators here have previous experience working in an unionized environment. "My only fear is that, if it becomes adversarial, teachers will work just in between the hours of the clock," said Vora. A teacher becomes less incentivized to spend their time outside of school grading papers, returning emails, or planning lessons when they are working in that adversarial environment—one that's fastidious about their hours and scheduling. Still, there is a sense of optimism about the future now that the DEA is officially a union. "I think there's a lot of negative externalities if this goes south. But I don't see it going that way," added Vora, "I still think that there's enough building leadership that can get the best out of their staff." Other teachers echo this sentiment as well. "Teachers really going above and beyond to help their students excel is something that's been a part of Deerfield long as I've been here, and I imagine that would continue," said Allen. It is likely that the adversarial environments in other unionized districts will not manifest here. While Crowley expressed that she doesn't believe the people in charge have ill will, she also explained, "We have not been hiring people who have experience in a smaller system where individuals play a larger role." In many ways, the hiring of Dr. Bruce Law in 2019 can be seen as the latest development in the chain of constant turnovers in district leadership for the past decade. Whether or not the current administration can rebuild the institutional knowledge and understanding that was lost in prior years remains to be seen. As District 113 enters a new negotiating year with its now-unionized teachers, it is venturing into uncharted territory. Nevertheless, two things are certain: the contract will certainly be more detailed than what it's been historically, and many teachers remain optimistic about their future relationship with the administration regardless of their decision to unionize.